my-vpa Virtual Teams are the missing piece of the puzzle of your HR strategy
Find out below how you can use my-vpa Virtual Teams as a building block alongside permanent and freelance employees. More flexible and powerful than any agency.
Recruiting Management
We take care for you that the team consists of qualified members. From our certified VPA pool, we will put together a team that meets your project needs.
Team Management
We organize the complete remote team for you: from task assignment, vacation and sick leave transfer to shift planning.
Motivation Management
A powerful team only works with motivated members. my-vpa is the largest German-speaking VPA community and offers its employees a highly attractive working environment. You will feel this in the cooperation with our teams.
Platform Management
Processes can be controlled transparently via our Managed Workforce Platform. You delegate tasks to the teams using a guided process so that the framework parameters are defined. In the background, the platform's algorithms ensure that the tasks are completed on time and within budget.
KPI Management
We support you in measuring your project progress and success. Using transparent KPIs, you have an overview of the current performance of your team at all times – and in real time.
Coaching and further development
Our VPAs undergo a continuous training program and get better with each passing day. In the process, we also take care of familiarizing the team with your specific tasks.
Cost management
With our virtual team service, you only incur costs for tasks that you actually call up. With our cost center management, you can transparently provide your teams with budgets and manage them via our app.
These are your benefits
1. pay-per-use: you only pay for what you use,
what you use.
2. optimization of your personnel structure
3. full control over your remote team
4. multilingual team (on request and after appropriate recruitment)
5. handover and substitution planning
6. intelligent deployment planning
7. agile team that adapts to the required skills after training
What we do differently
my-vpa is the largest German-speaking VPA community, because we place the highest value on work culture and freedom. Our common team spirit enables us to go the extra mile for our customers: You are not just a "job" for us, but we identify with you. Starting with an intensive briefing and continuous feedback until delivery, we manage your teams with experience from more than 10 years of remote work. Professionally and with pleasure at work.
Typical structure of a Managed Virtual Team
A virtual team is permanently assigned to you and completely managed by us. Communication takes place via a permanently assigned Project Assistant (PA) as Single Point of Contact (SPC).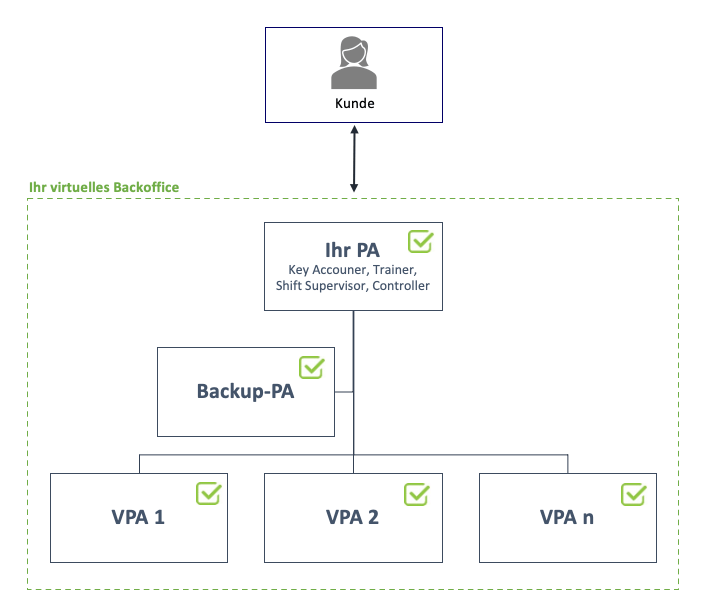 Procedure model when using a managed virtual team
The deployment of a Virtual Team follows a defined and standardized process. This process supports you in achieving the best results with your team.
Billing model of a Managed Virtual Team
Managed Virtual Teams are billed in 3 components: 1. one-time setup fee, 2. monthly management fee, 3. the actual hourly fee used.

What is a virtual team?
Behind the Virtual Teams of my-vpa are "real" people, which we call Virtual Personal Assistants (VPA). Using our my-vpa cloud management platform, you can collaborate with these Virtual Assistants on a topic or team basis. These Virtual Teams are completely managed by us, so that you can only focus on the results of your tasks.
The my-vpa quality promise
German-speaking, professionally trained assistants
No fixed costs, available on demand and scalable
One personal contact
100% managed team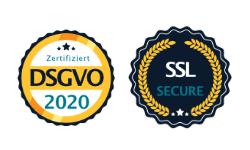 Case Studies
Virtual project support is individual in every company. Here we present 6 examples of how our virtual teams are used.
More references
If you have any questions about the following customer examples, please contact us using the button at the top right.
Our 'Managed VPA Service' has six advantages for you
We take over the entire task, project and personnel management for our customers. We call this 'Managed VPA Service'. This 'Virtual Workforce Management' makes delegation extremely efficient for you, because you outsource not only the task, but also the management work.
Your Virtual Team can support you in six additional areas of responsibility, if needed
Click on one of the unchecked task areas to get more information