96 percent of our customers recommend my-vpa.
Learn more about what our customers think about us.
Welcome to Germany's market leader for Virtual Personal Assistance
Our clients use our app to delegate tasks, projects and overhead processes, which our VPAs carry out virtually on the PC, phone and internet.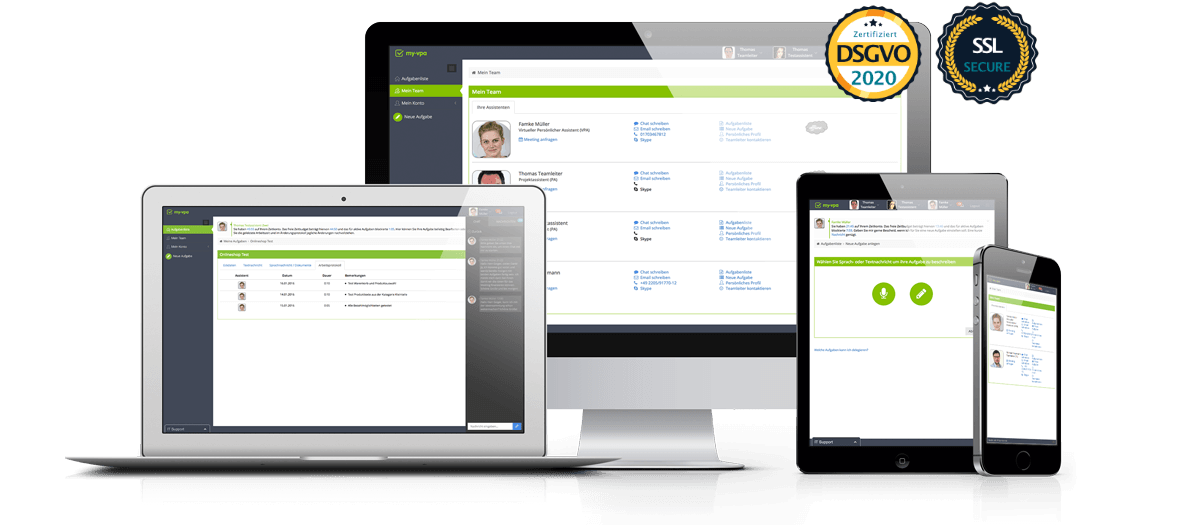 Your personal assistant from my-vpa is always at your side
With my-vpa, a VPA is individually selected and permanently assigned to you. Your VPA is your first contact person for all your office tasks. How does this work? It's simple: we are Germany's largest VPA community and support each other's customers. So if there is a task that your personal VPA cannot do for you, he will immediately find the right support for you via our my-vpa community cloud platform and still remains your direct contact person.
These are your my-vpa benefits
The my-vpa Cloud Platform
You can manage your VPA and delegate tasks to them on the my-vpa Cloud Management Platform (CMP) or using the app for
iOS
and
Android
. If your VPA is unavailable due to holiday or illness, you'll automatically get a replacement VPA to cover for them during their absence. And when this happens, you don't need to worry about onboarding or transferring tasks, as this is handled for you in an automatic and transparent way via the CMP.
Flexible to your needs!
my-vpa is a flexible assistance service, meaning there are no overheads for you. Simply choose one of the affordable hour packages or hourly subscriptions and assign a fixed budget for each task. This gives you complete cost transparency and allows you to decide how much work you want to delegate to your assistants at any time. In addition to the
hour packages
, we offer add-ons that allow you to expand the functionality and accessibility of your personal VPA service. Do you need some assistance, say, in the middle of the night? No problem, my-vpa is available 24/7.
my-vpa is (not) an agency.
Sometimes you get stuck trying to design a social media campaign, build an e-commerce system or do the bookkeeping. Our VPAs are not experts in designing campaigns, etc., either. But don't worry, my-vpa has got you covered here too. We work with certified partners who can develop concepts for you and your VPA. We are able to develop solutions in the following areas: advertising and design, accounting, e-commerce, programming, and sales conception. So, you can form entire teams on my-vpa which can act as a single source for getting the support you need for a wide variety of tasks.
my-vpa grows with you!
You have recently started your own business or are just starting to build up a company? Then we are exactly the right partner for you! From small to medium-sized to large companies – we grow with you! You decide how big and with which budget your tasks should be processed by us – and if there is not so much to do, you can of course stop your tasks or reduce the budget at any time.
If you have any questions, you can also contact us here – we will get back to you shortly.
my-vpa can support you in these tasks
Click on the task areas to learn more.
How the my-vpa "Managed Service" works
As a market leader, we have over 10 years of experience in providing virtual assistance.
You too can benefit from our experience by registering for free today.
my-vpa on Facebook and Twitter